VHB – Chipper feeding conveyor
Safe and robust feeding of even massive logs into the chipper
The Vecoplan drum chipper feeding conveyor is designed for the horizontal feeding of wood trunks into a drum chipper. The solid welded construction with the generously designed support rollers and the conveying belt specially designed for this application ensure the high availability. This conveyor has a reinforced feeding area adapted to the length of the logs, on which the logs to be chipped can be fed by means of an upstream chain cross conveyor or by means of a log gripper.
Advantages at a glance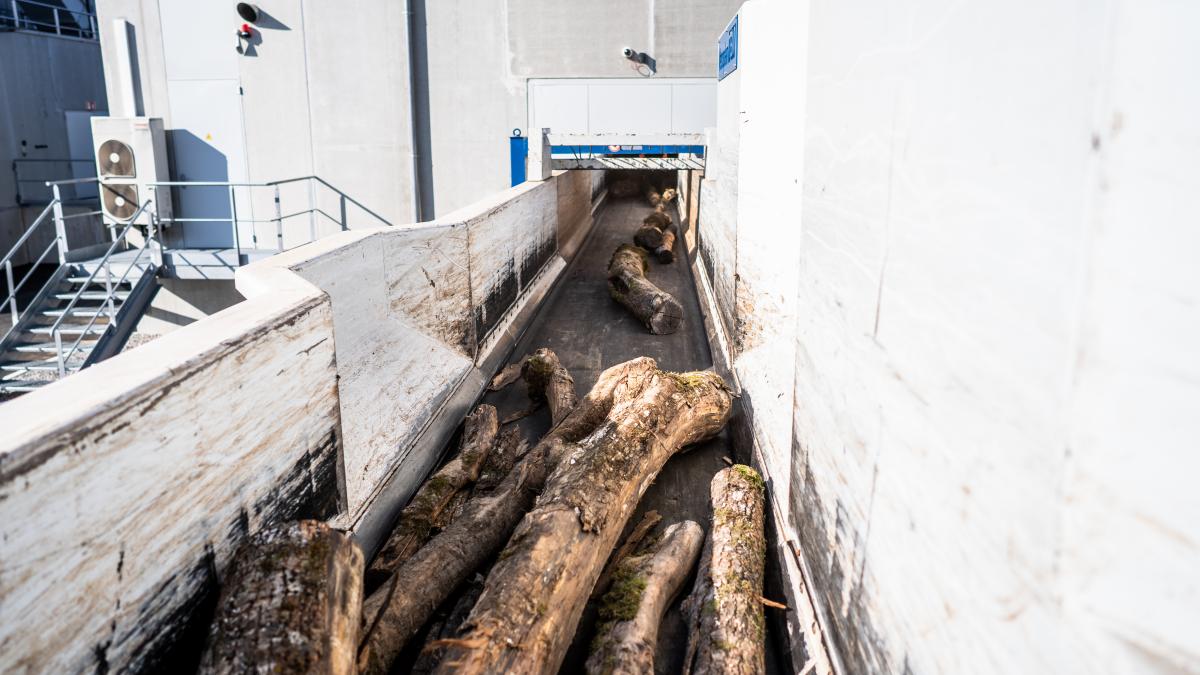 very solid tub construction with profile steel reinforcement 

special damping elements in the feeding area 

shock absorbing support rollers 

integrated metal-free zone for the use of metal detectors 

optionally: stable baffle wall opposite the feed side V-shaped flared trough for crane removal of contaminated wood
Convince yourself of the unlimited flexibility for unlimited requirements.
Flexible fuel preparation for paper mill
The Gemdoubs paper mill in Novillars produces corrugated board packaging for the retail sector. The newly built biomass power plant permanently and reliably supplies the factory with steam for paper production and also feeds green electricity into the grid. The Vecoplan components secure the material flow from the material receiving area to the combustion boiler.
Which model suits your needs?
| Specification | VHB 850 | VHB 1050 | VHB 1250 |
| --- | --- | --- | --- |
| Motor power | 4 - 22 kW | 4 - 22 kW | 4 - 22 kW |
| Weight | - | - | - |
| Rotor geometry | - | - | - |
| Belt width | 800 mm | 1,000 mm | 1,200 mm |
| Total length | 30 m | 30 m | 30 m |
| Clear width | 850 mm | 1,050 mm | 1,250 mm |
Can be used for following material